2019 Pinckley Prizes
Megan Abbott and Sarah St. Vincent are the recipients of the 2019 Pinckley Prizes for Crime Fiction, named to honor the memory of Diana Pinckley. The prizes were presented October 10, 2019 at Louisiana Humanities Center, 938 Lafayette St., in New Orleans. The Pinckley Prizes partner with the Women's National Book Association of New Orleans, of which Diana Pinckley was a founding member.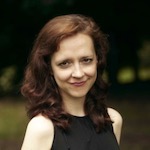 Megan Abbott is the winner of the Pinckley Prize for Distinguished Body of Work. She is the author of 10 books. Her most recent novel is Give Me Your Hand, which depicts the rivalry between two female graduate students in the world of high-stakes science. You Will Know Me, her recent book about competitive gymnastics, was one of the most critically acclaimed of 2016, and Dare Me is currently being produced as a USA Network series. Her bestselling novels probe the dark side of female friendship and ambition with clear-eyed precision and insight. Abbott is also a scholar of crime fiction, and the author of a nonfiction book, The Street Was Mine: White Masculinity in Hardboiled Crime Fiction, and the editor of the anthology, A Hell of a Woman. Her work has won or been nominated for the CWA Steel Dagger, the International Thriller Writers Award, the Los Angeles Times Book Prize and five Edgar awards, Currently, she is a staff writer on HBO's new David Simon show, The Deuce. She lives in New York.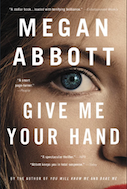 The judges praised Abbott's fierce feminism, her brilliant prose style, and her laser-sharp insight into female friendships and ambition, particularly in her treatment of striving and gifted adolescent girls.
"This is such thrilling news!" Abbott said. "I feel more honored than I can say--such storied company and such a prestigious prize. I couldn't be more proud."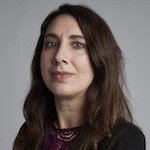 New York resident Sarah St. Vincent is the winner of the Pinckley Prize for Debut Novel for Ways to Hide in Winter, published by Melville house. St. Vincent is a human rights attorney who has advocated for survivors of domestic violence and currently researches national security and surveillance for Human Rights Watch. Her first novel blends her concerns with domestic violence and human rights in a chilling tale of a fugitive and the woman who gets to know him over a wintry season in a state park.
St.Vincent's exquisitely written novel is eerily timely, said the judges, as issues of domestic violence and immigration continue to lead the news.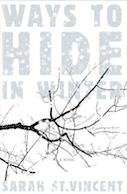 "This is absolutely wonderful news!" St.Vincent said. I had no idea Ways to Hide in Winter was being considered for this prize and am beyond delighted."
The judges this year were novelist J.M. Redmann, author of the Mickey Knight and Nell McGraw series; Constance Adler, author of My Bayou, New Orleans Through the Eyes of a Lover; and music and culture journalist Alison Fensterstock, editor/co-author of The Definition of Bounce.
Abbott and St. Vincent will receive a $2,500 cash award, as well as a beautiful paper rosette fashioned from the pages of their books, created by New Orleans artist Yuka Petz.
Submissions for the 2020 Prize opens on June 1, 2019.